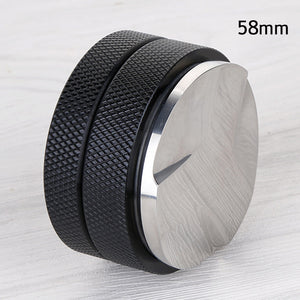 Espresso Distribution Tool (58mm)
Sale price Price $19.90 Regular price Unit price / per
Channeling is one of the most common extraction defects, and is often caused by an uneven distribution of coffee grounds in the portafilter. The easiest way of resolving this issue is to use a distributor before tamping to distribute the coffee grounds evenly.

This espresso distributor will work with all standard 58mm portafilters, and is depth-adjustable. When you first use it, you'll have to figure out how deep the distributor should reach – this differs with every portafilter.
If you're still facing issues with chaneling, we find that a really good solution is to grind into a dosing cup (and not directly into the portafilter), then use an espresso needle (or a clean, dry spoon really) to break up any clumps. We stock some really nice dosing cups we use ourselves, too!
Product information: Espresso distribution tool (58mm)

Product Pictures: